Key Features of Muvi Video Player
Advanced Player Features in Mobile App
Introduction
Muvi's HTML5 Online Video Player is completely customizable and is packed with enormous features that provides the best video streaming experience to your viewers. Muvi Player has unique features like subtitles, dual audio, responsive design, cross browser and cross device compatibility, and embed option that allows you to insert it and integrate it with virtually any 3rd party website, mobile or TV apps! Muvi Player supports different revenue options like Subscription – SVOD, Video Advertising – AVOD, and Pay-Per-View – TVOD allowing you greater control and flexibility over how you chose to monetize your videos digitally!
Muvi's iOS player can play videos on any iOS device effortlessly. It is faster than HTML 5 player. The player is also capable of playing live streaming content.
Muvi's Audio Player is laced with advanced features like responsive design, multi-bitrate transcoding, cross-device and cross-browser compatibility to deliver seamless music streaming. You can also embed the player to any third-party website, change the playback speed and add the music tracks you like to your favorite list directly from the player.
Key Features of Muvi Video Player
Fully Customizable Interface
Define the look and feel of your own Video Player with preferred colours and styles to match your platform brand. With Muvi Player, not a single platform will look similar. You can also add a  logo to the online video player which gives each site a unique identity.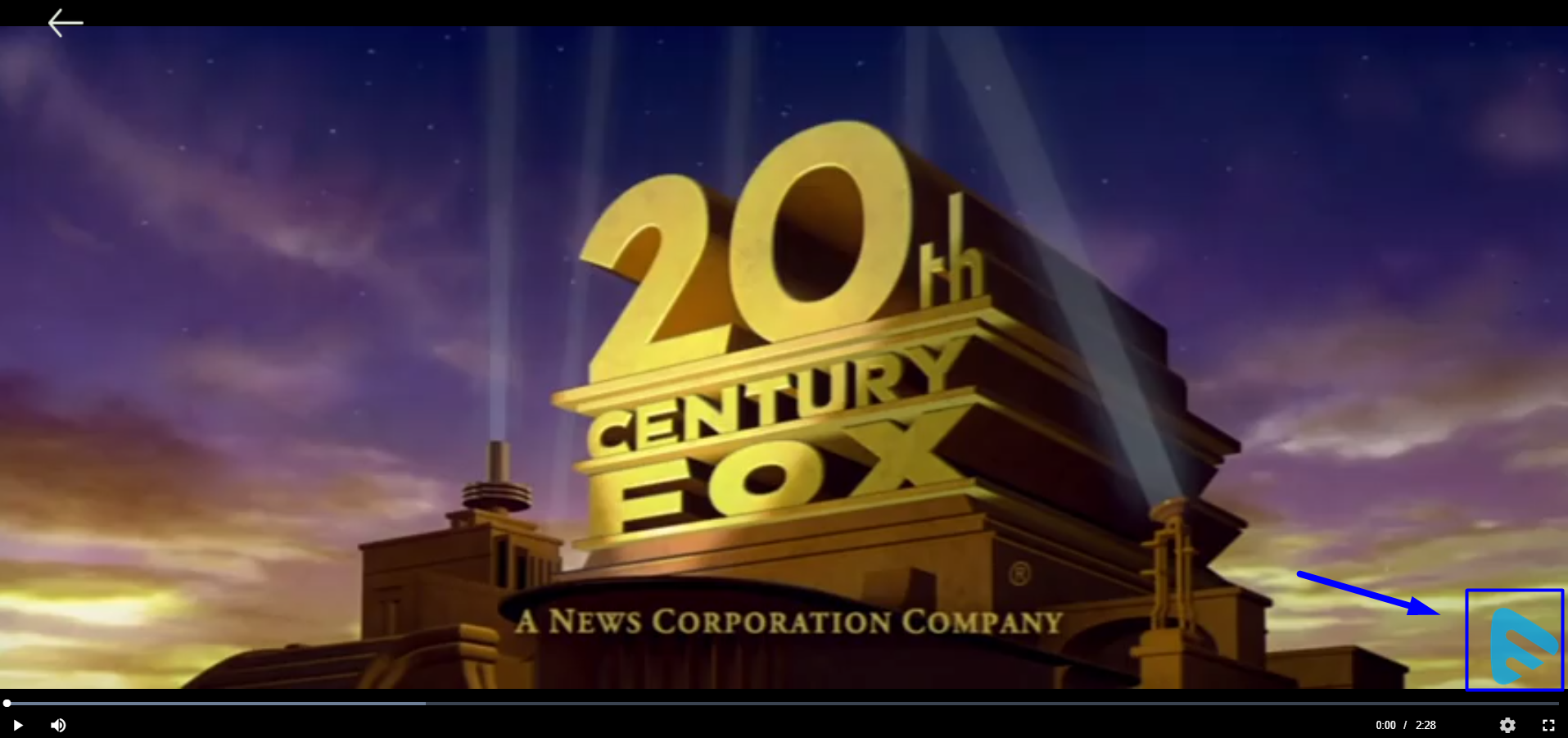 Subtitle Support
You can add Subtitlesof any language. Users can select the subtitle of their choice when they play watch video on the player.  Muvi player supports SRT and VTT format subtitles and you can simply click-browse-upload the same onto your videos.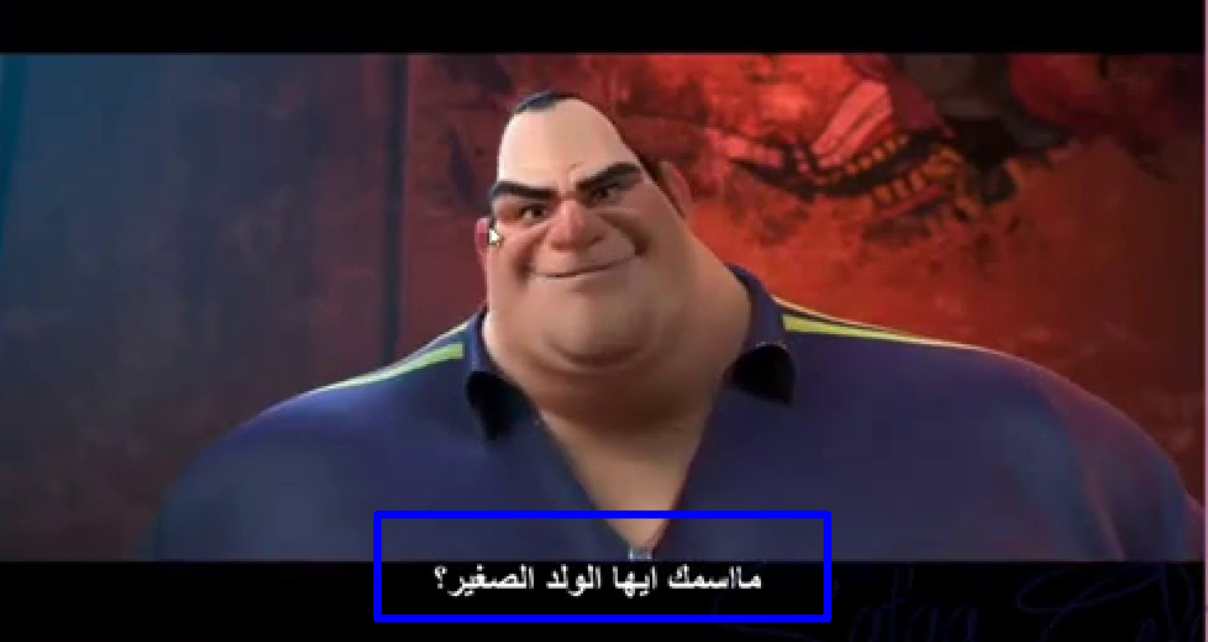 Multiple Audio Language Support
Muvi player supports multiple audio languages. Provide content with multiple audio track in different languages for your viewers to select the audio track by clicking on the multiple audio icon (See below screenshot) during playback. We support audio in multiple languages for both DRM and Non DRM content. 
Note: For Non-DRM content, multiple audio language is only supported in Microsoft Edge and Safari browser. For DRM content it is supported in all browsers (i.e. Chrome, Firefox, Edge and Safari).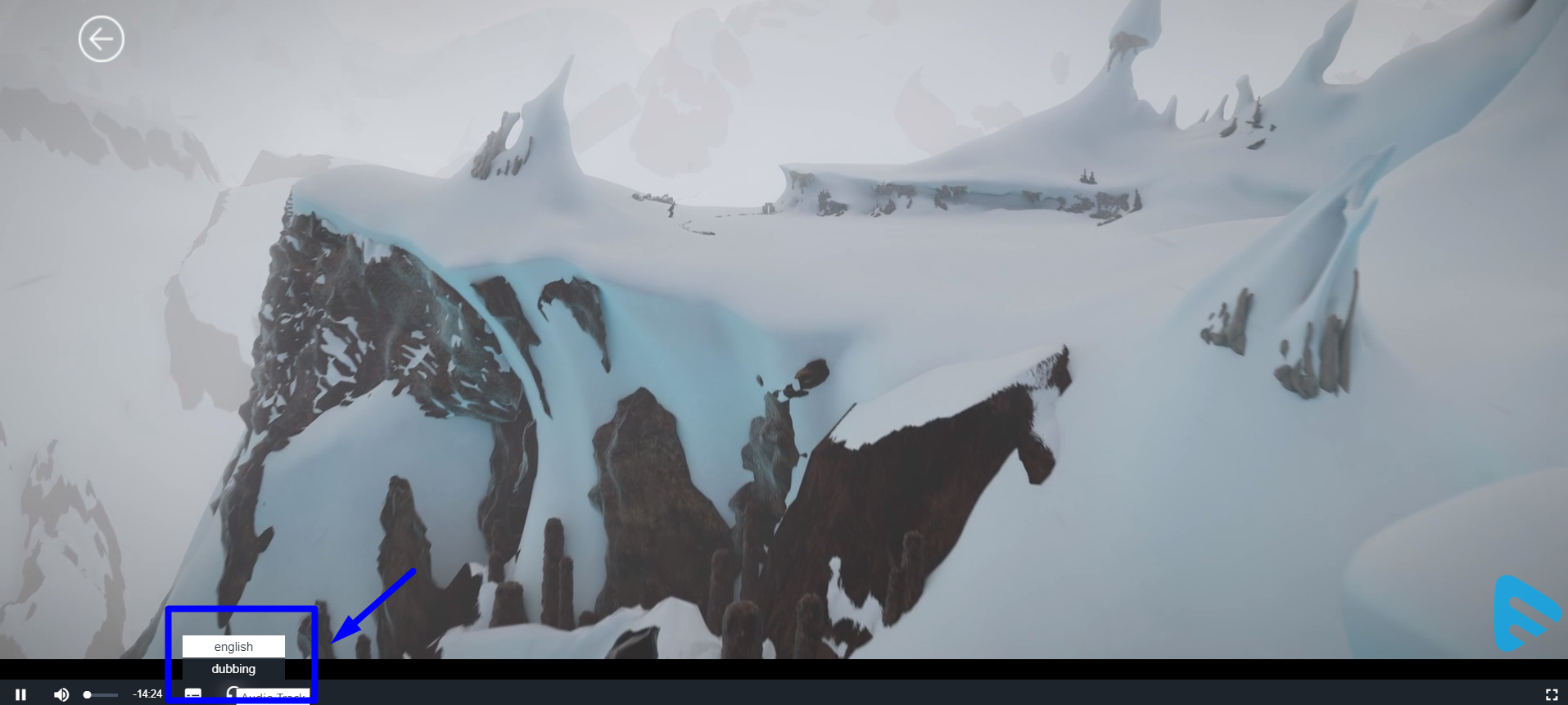 5.1 Channel Audio Support
Muvi player supports 5.1 channel audio. Your users can enjoy 5.1 surround sound effect while watching their favorite movie.  You need to upload pre-formatted videos to the Video Library/Content Library which already have 5.1 channel audio integrated  to them. When users play these content in our player, they will experience the 5.1 channel audio effect. 
Note: 5.1 audio is not supported in Chrome Cast player. 
Resume Watch
Muvi player supports continuous playback across different platforms and devices allowing a viewer to Resume Playback of any video from where she/he left. The Player Remembers the last played video of its every viewer. This feature works across all the platforms as well as for offline viewing (Mobile, TV Apps and Website). You can also enable the feature "Resume Watch from Last Seen" to allow the users to watch the episode where he/she has left watching it. When the users try to play the multi-part content, it will play the episode where the user has left watching instead of playing from the beginning. To know more about how to enable "Resume Watch" please Click Here. 
AutoPlay Episodes
If you enable this feature, then the episodes in a multi-part content will be played automatically. You will also see the "Next", "Pause/Play" and "Previous" button on the episodes during the play. 
To enable this feature, go to "User Features" –>"Manage Queue" in your CMS
Select the checkbox for "Auto Play Next Episode" 
Click on "Save"
Note:
You can Autoplay the episodes only if you have added numbers to the episodes to arrange them in a specific order (i.e. 1, 2, 3, 4...). To know how to add episode number, please Click Here. 
Currently, this feature is enabled only for the "Modern" and "Revo" template.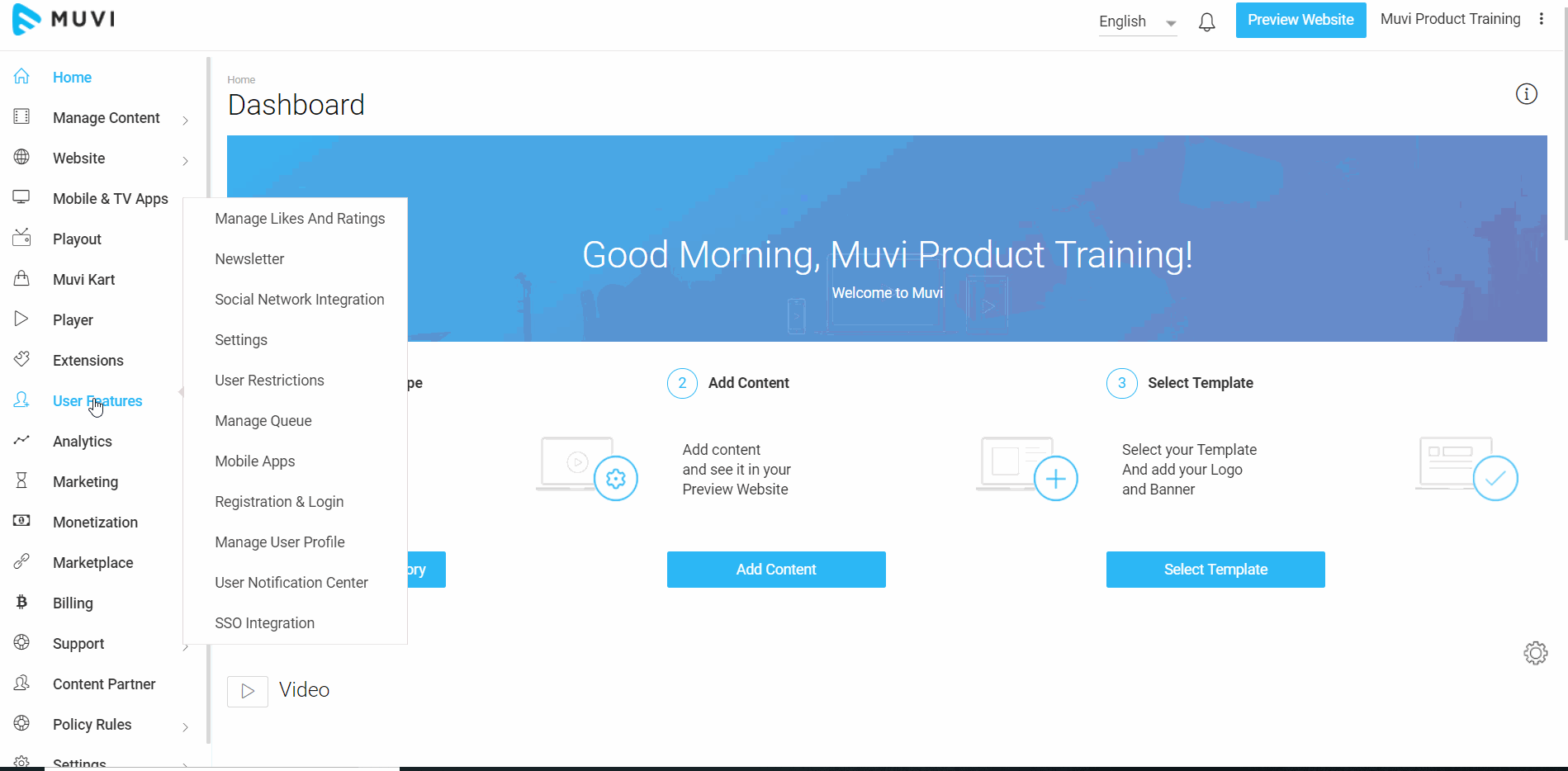 DRM Protection
Muvi provides an option for you to choose a Hollywood Studio Approved DRM, specializes in Audio and Video encryption of digital content during transfer between server and client's computer ensuring a complete security environment from hackers, as well as from 3rd party plugins and video download software.
Watermark
Muvi player allows to you to add Dynamic Watermarkon your videos like viewers Email Address, IP Address, Date. It is difficult for any user to remove the watermark as it is not fixed at one part of the screen but moves all over the screen. It discourages viewers from using screen capture software or camera to record your videos.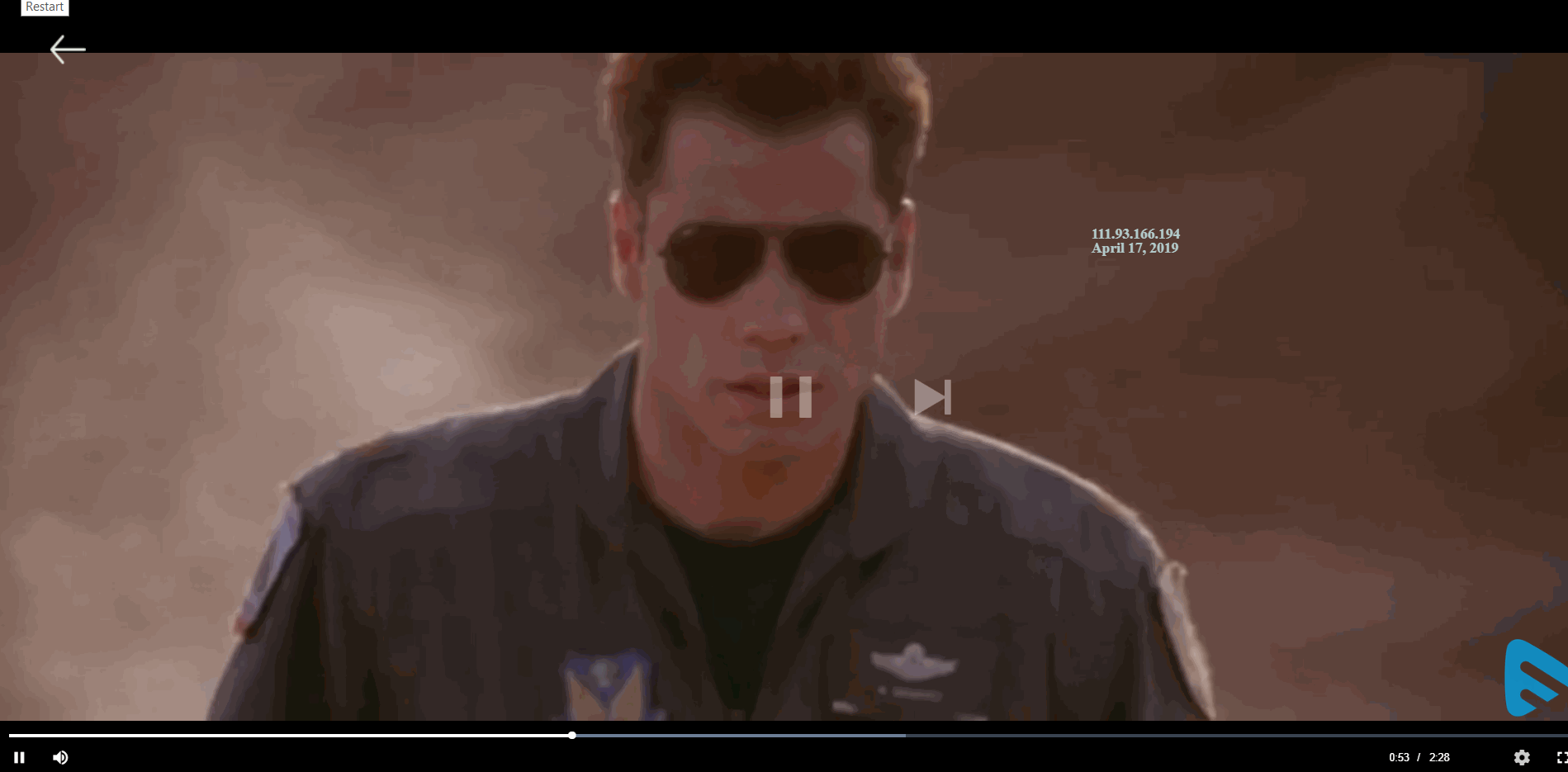 Embed Player
Embed your videos or share the embed link with any 3rd party website or mobile / TV apps to increase your revenues! Muvi provides a very simple and easy to use embed code option to you via which you can not only share the embed code with your partners but also restrict them from sharing it with others without your knowledge by entering their domain in the restrict embed code option. This provides a high level of control to you over sharing of your content.
Videos Start in High Quality
When users play video in our player, they start in high quality by default. Later, switches to a lower quality if required based on the internet speed. End users can also change the resolution manually if they want to.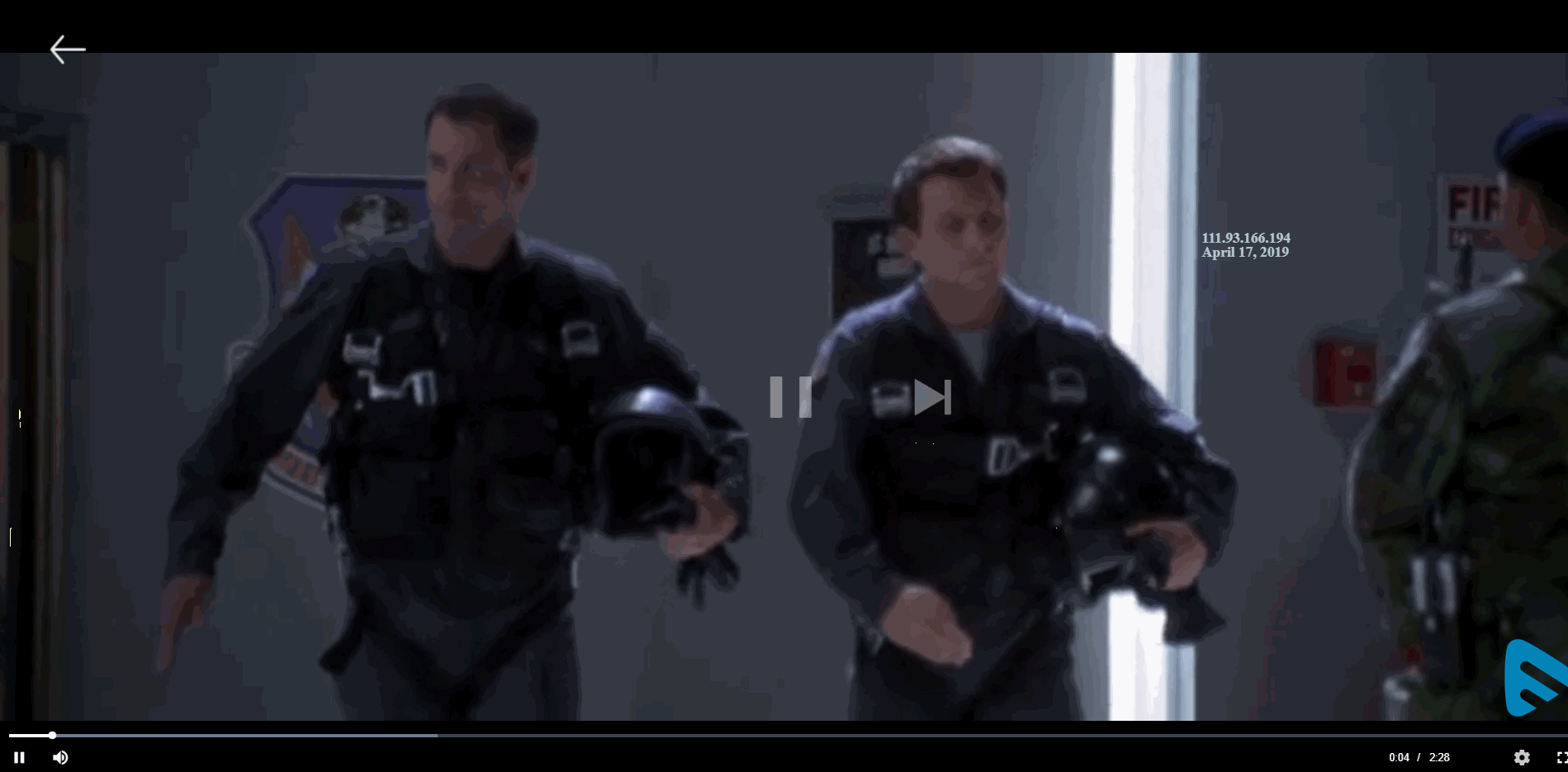 Duration Displayed in The Player During Playback
The end users can now see buffered duration on the player. When a user hovers on the progress/seek bar, he/she can see both played duration and buffered duration on the progress bar.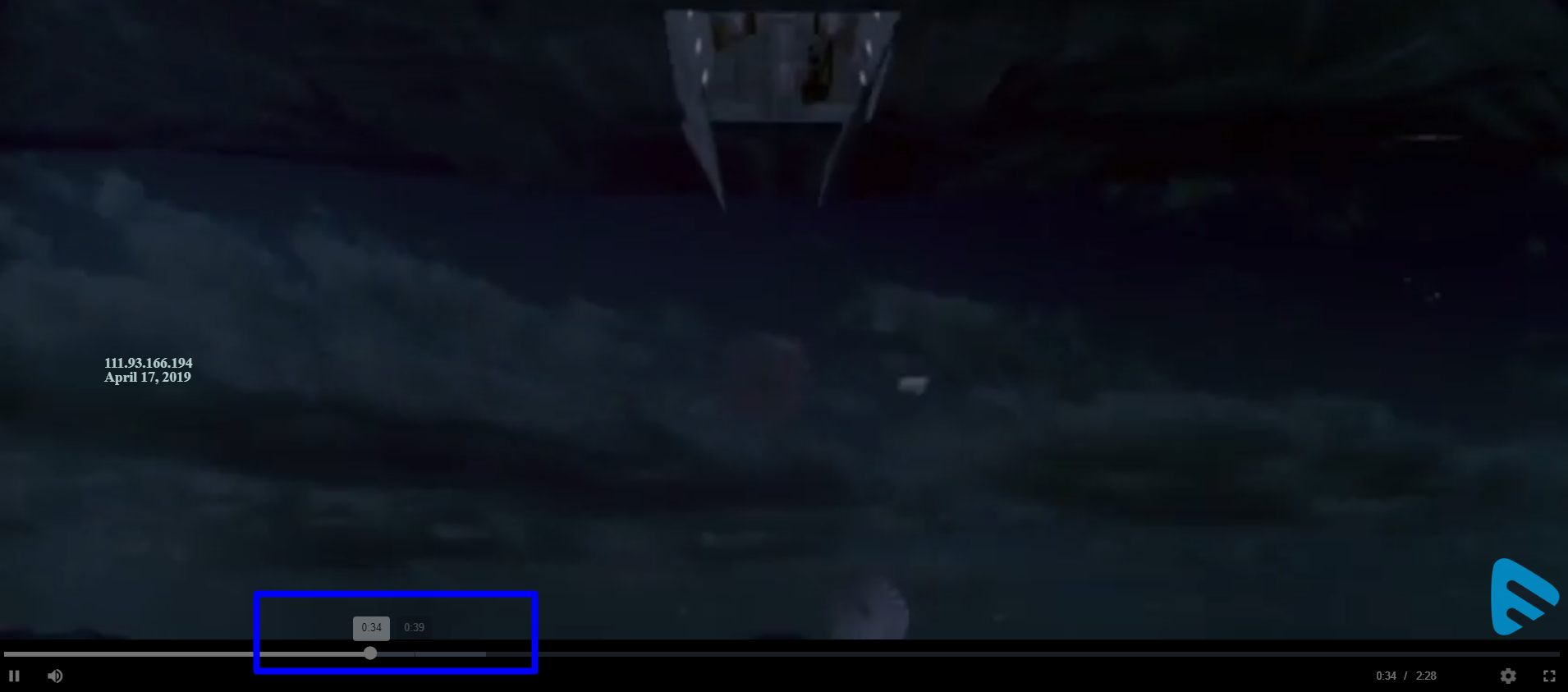 Content Title Displays on the Player
When the users play any video, the title of the content appears on the top left corner of the player adjacent to the back button (see below screenshot). This helps the user to know the content name without going to the content details page by clicking on the back button.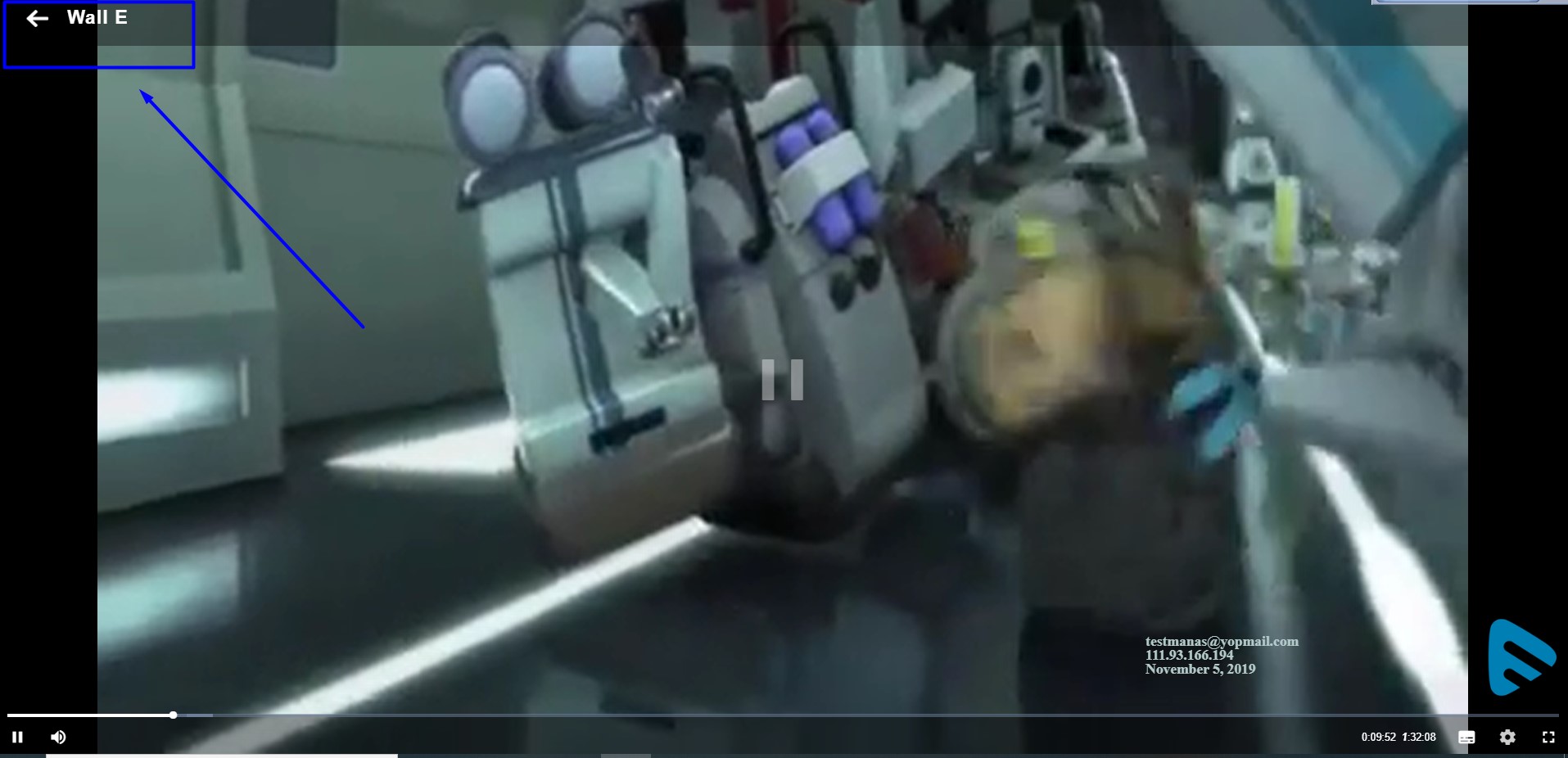 For multi-part content, the season numner and episode numbers appear along with the title. By default, the season number and episode numbers appear as S xxx and E xxx (see below screenshot). However, if you wish, you can change it to "Season" and "Episode" by using the translation feature. 

Pause Video to Save Bandwidth Consumption
When you are watching a video on your Muvi player and you paused it for some time, then the video will stop downloading in the background. This feature can save unnecessary consumption of bandwidth. When you resume playback, the video will again start to download.
Note:  In the Safari browser(Mac, iOS), the player starts in mute mode. Users need to increase the volume of their device manually to watch the content seamlessly.
Muvi iOS Player
Muvi iOS player can play videos on any iOS device effortlessly. It is faster than the HTML 5 player. The player is also capable of playing live streaming content.
Key Features of Muvi iOS Player
The player has a Play/Pause button
User can easily switch resolution with its resolution control
Note: At present, the below-listed features are not supported in the native iOS video player.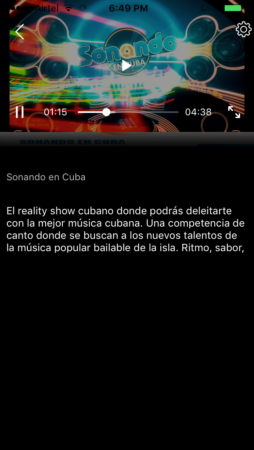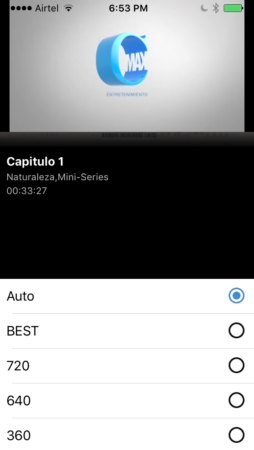 Muvi Advanced Player
You can add Muvi advanced player to your website. Once you add the advanced player, it will be displayed in a separate page ( i.e. Player Page) on your website. The page will contain the player as a section along with other information such as content details, related videos and a queue of videos for multi part content.
To add Muvi Advanced Player to your website, click on "Player" in your CMS
Select the checkbox "Advanced Player" 
When you click on a content, it play in the same page. 
Note:
Currently, Muvi Advanced Player is only available in Revo, Modern and Classic template.
At present, the back button "<-- "and close button "X"  are not available in Advanced Player.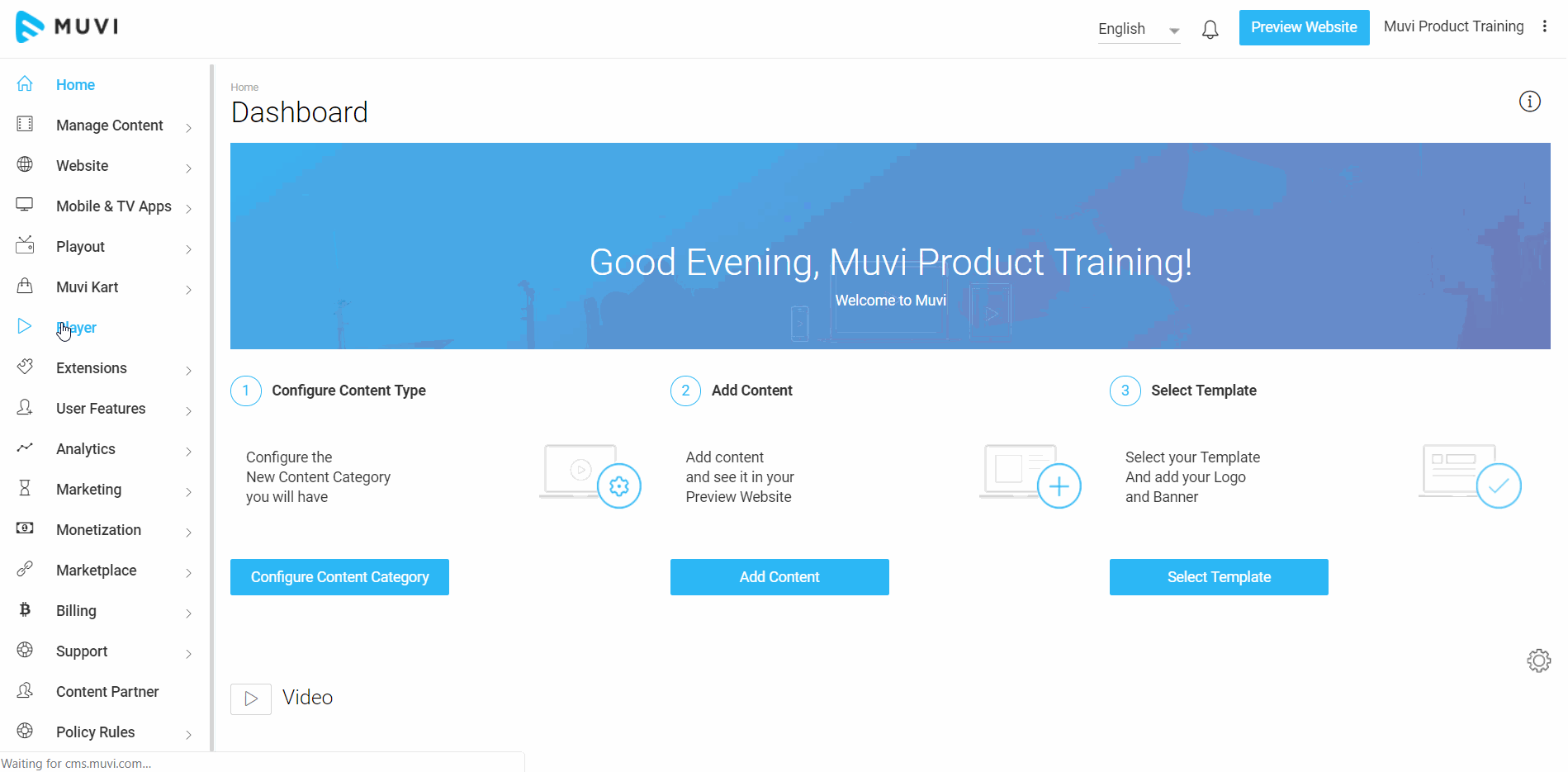 You can fully customize the player using the Template Editor (Go to 'Website"–>"Templates" –>"Manage Template" in your CMS.
Click on the "Edit Template". 
In the Template Editor, click on "Views" .
Then click on "Playing" and click on "play_video.html")
You can customize the player screen, add Google ads, add images etc. 
Muvi Audio Player
When you click on an audio content, it will play in Muvi's Audio Player. To exit the player, either you can refresh the page or switch to another page.
Note: If you have configured monetization for your store (Subscription, PPV), then audio will be played for a maximum of 10 seconds and after that the user will be prompted to purchase the audio content. This is applicable to all single audio tracks, audio albums (multi-part) and audio playlists.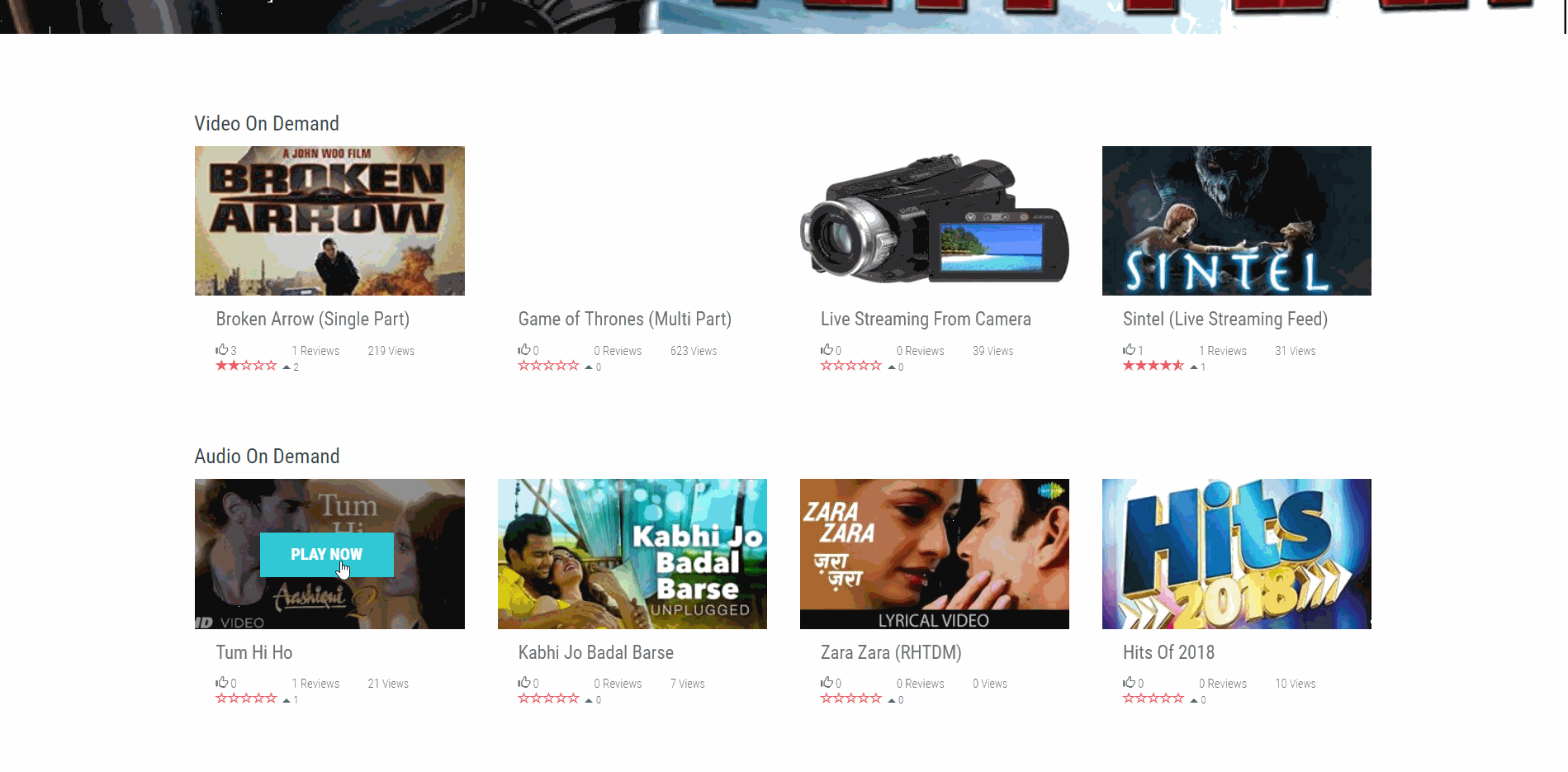 You can control the speed of the audio playback.
To enable speed control of the audio playback, click on "Player".
Select the check box for "Playback Speed Control (Audio Player Only)".
When you play audio next time, you will see the playback speed control option on the player.
While playing any audio content, you can add it to your favorite list. Click on the heart icon to add the specific song to your favorite list.
Hover your mouse on the social media sharing icon to select the social media platform to share the specific song. 
Click on the "Shuffle" icon to shuffle the audio playlist. 
By clicking on the "Repeat" icon, you can repeat the playback of a specific song.
Click on the "Gear" icon to change the audio quality (e.g. Low, Fair, High, Best)
For missing content in the Playlist and/or Queue, the player will automatically skipped to the next content. The message will be displayed as "Track Unavailable" (see below screenshot). 

Note:
If you click on "Shuffle", then the "Repeat" option will be automatically get deselected and vice-versa.
This feature is enabled for "Audio Only", "Modern" and "Revo" template. 

Muvi One Player (Video&Audio)
Muvi's One Player allows your users to play video and audio in the same player. While playing video, users can switch to audio and vice versa. When users switch from video to audio, the video will stop playing and they can only listen to the audio. When they switch from audio to video, the audio will stop playing and they can watch the video with audio. 
First, you need to enable "Secondary Content Assets" in the CMS to activate the One Player. By enabling the "Secondary Content Assets" you can add a video to the already existed audio content and audio to the already existed video content. On the front-end, users will see the option to play Audio/Video in the same content. 
Key Features:
The player supports all standard features of an audio player (i.e. Mute, Shuffle, Repeat, Queue seek, Volume, etc). 
Alos it supports most video player features such as Subtitles, Resolution switch, etc.
Resumes where audio/video left off.
Automatically plays the content in the same mode i.e. video or audio if available. Or switches to the available mode.
It supports Playlist feature.
The player also has a Mini Player mode. Users can collapse and expand the player during browsing. 
Note: At present, the One Player is enabled only for Revo template.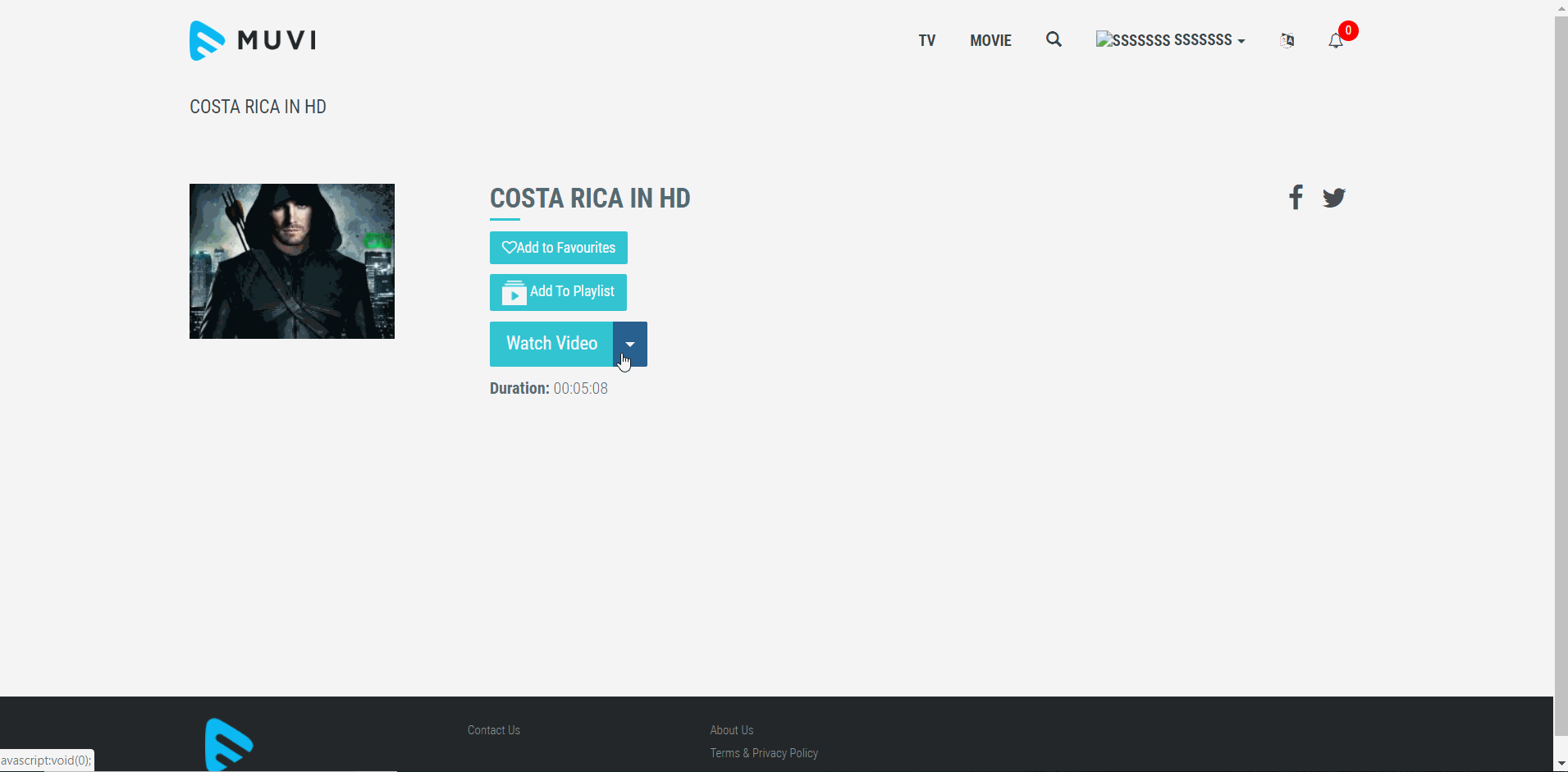 Advanced Player Features in Mobile App
Our advanced player features for the mobile app include, "Resume Playback", "Playback Speed Control" and "Lock Screen Player".
Resume Playback
While watching videos on your mobile app, if you close the player in the middle and choose to watch the video later, then next time when you open that particular video to watch, the player will resume playback of the video from where you have left it. You don't have to play the video again from the beginning as the player remembers where you have left. This feature works across all the platforms as well as for offline viewing (Mobile, TV Apps, and Website).
Playback Speed Control
Playback speed control feature allows the user to control the playback speed of the content (Audio/Video) being played on the player. The users can either increase the speed of the playback or can decrease by tapping on the multiple speed options (see below screenshot).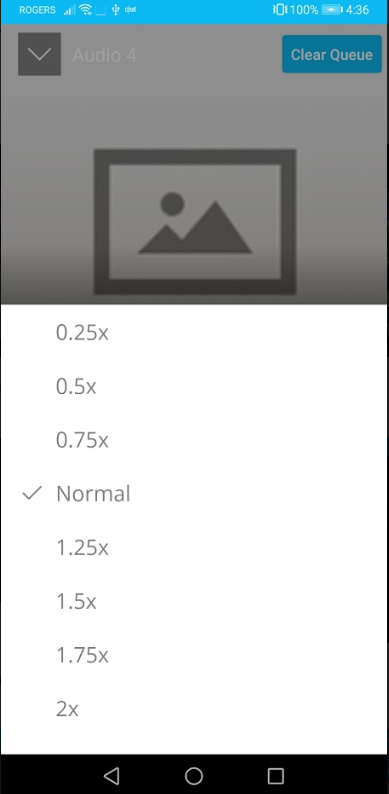 Lock Screen Player
Lock screen player feature allows the users to control the audio content functionalities like play/pause/forward/backward without unlocking their phone. This feature is only available for the Audio Player (see below screenshot).