How to Integrate Zoom App to Your Store
Adding Zoom Meeting in the CMS
How End-Users Can Join a Meeting
Introduction
By integrating the Zoom meeting app into your store, you can directly configure the Zoom meetings from the CMS. Once the app is integrated, you do not have to configure the Zoom meetings manually. You can activate the Zoom from the marketplace of the CMS and then you can add your Zoom meetings. By using the different monetization models, you can also monetize your meetings. The end-users can join the meeting after purchasing it.
How to Integrate Zoom App to Your Store
First, you need to Sign up/Log in to Zoom to create your app. Once the app is created, then you can integrate it with your store.
Sign in/Sign Up to Zoom.
Navigate to the "Develop" -->" Build App" button in the Zoom Marketplace.
Click on "Agree" to Zoom's API License and Terms of Use.
Under "Choose Your App Type", click on Create button of the OAuth
In the popup window "Create an OAuth App", type your OAuth App name.
Choose app-type as "Account-level app".
Disable "Would you like to publish your app to Zoom Marketplace" to avoid adding to the Zoom ecosystem
Click on "Create".
You can view information about the App created where you will find the "Client ID" and "Client Secret" that will be used in Muvi.
In-App Credential Menu, scroll down to "Redirect URL for OAuth".
Provide the Environment URL: https://webhook.muvi.com/zoom/callback
Provide the Environment URL in "Add Whitelist URLs".
Click on "Continue" to go to the Information Menu page.
Provide basic information like App Name, Short Description, Description, Company Name, Developer Contact Details and click on "Continue".
Click on Continue to skip the Feature Menu as it's not required.
Click on Add Scope
A pop-up box will appear with the list of features.
Select "Meeting" and select the checkboxes under it.
Click on "Continue".
On the Activation menu page, do not make any changes. Just save it.
Do not add it to the Zoom Marketplace.
Copy the Client ID and Client Secret from the App Credentials Menu.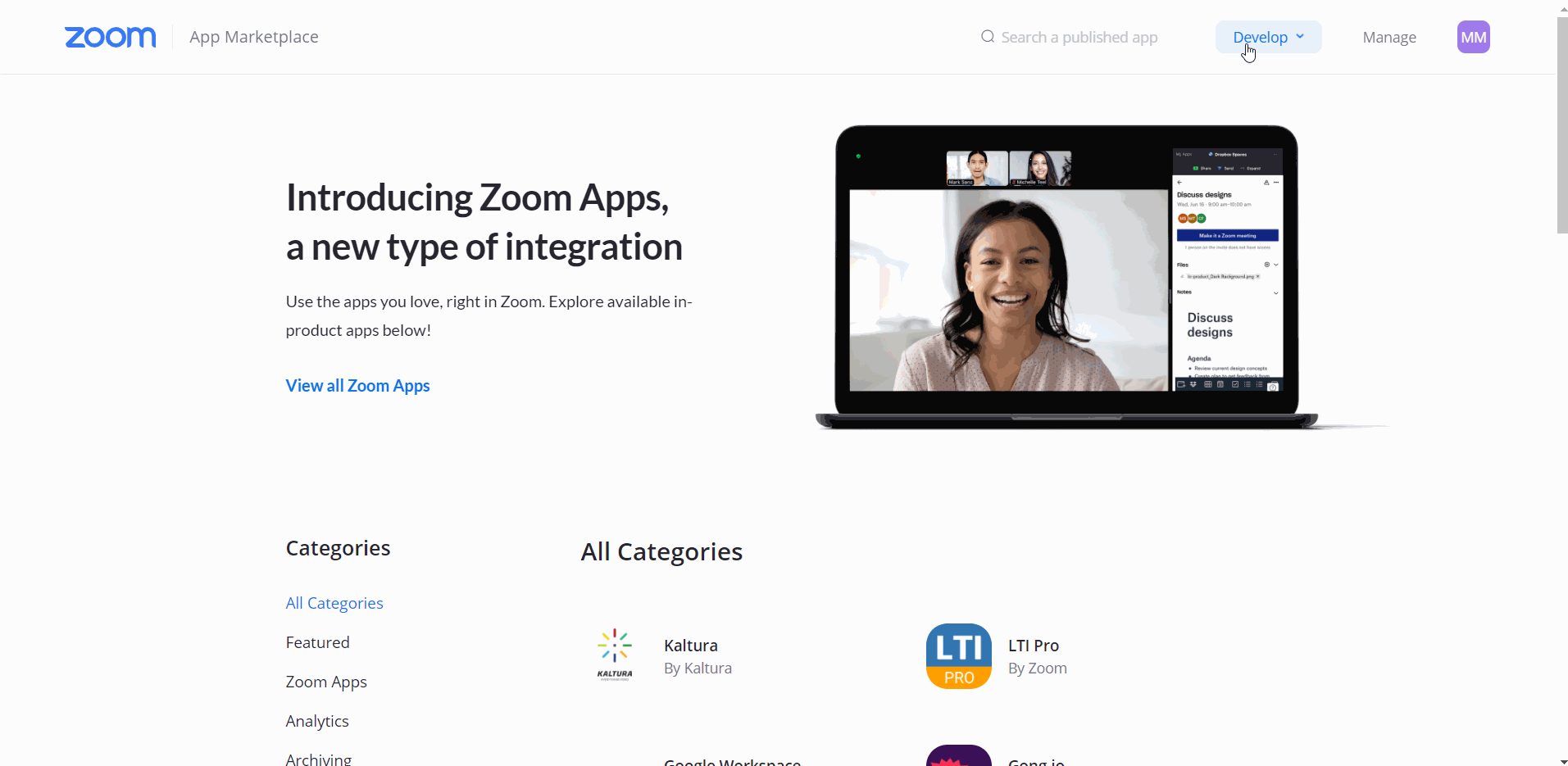 Activating Zoom in the CMS
Login to your Muvi Store.
Navigate to "Marketplace" in the CMS.
Click on the "Activate" button for Zoom.
Enter the Client ID and Client Secret received from the Zoom Marketplace.
Click on "Connect".
Click on "Authorize" to give permission access to Zoom.
Zoom is now successfully integrated with your Muvi Store.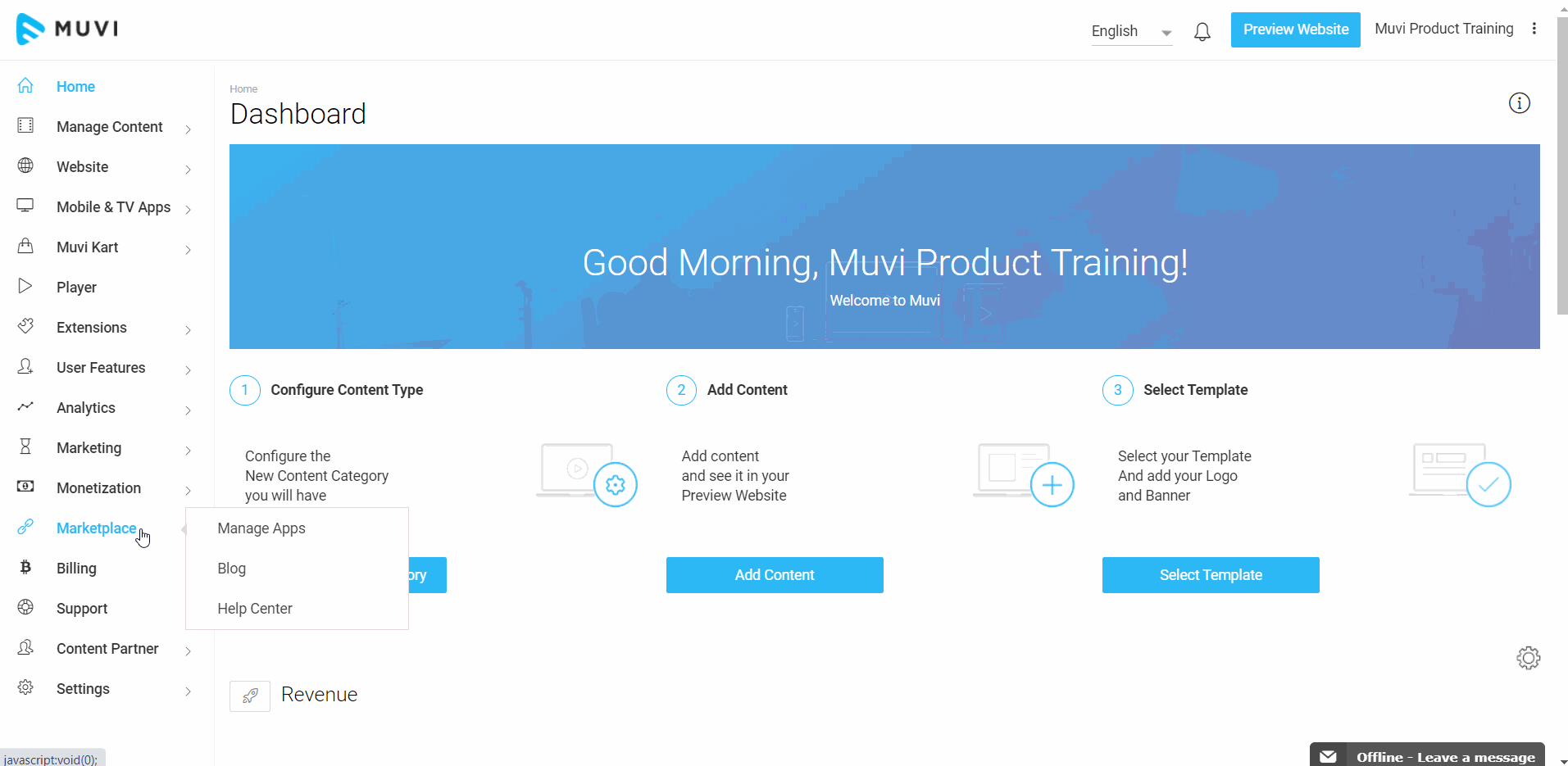 Adding Zoom Meeting in the CMS
Before adding the meeting, you must enable it from the CMS. To know how to enable the meeting feature, please click here.
After enabling the meeting, navigate to "Manage Content" -->" Content Library" in the CMS.
Click on "Add Content".
From the "Content Forms", select "Meeting Session" from the drop-down.
In the "Meeting Info" field, select "Create New".
In "App" select "Zoom".
Type the "Meeting Name".
Permalink will be automatically generated.
Type the "Meeting Title".
Select the meeting "Duration" in HH: MM format. i.e., 01:30 or 1 hour 30 minutes.
Select the "Start Date" and "Start Time" from the calendar.
Select the "Time Zone" (i.e., UTC/GMT)
Type the meeting "Agenda".
Select the "Content Category".
Type the search tags.
Upload the "Top Banner"
Upload the "Poster"
You can add the host(s) name in "Cast and Crew".
Click on "Save and Continue". The meeting will be added. You can also view the scheduled meeting in Zoom.
Go to the "Content Library" and click on "Start Now" to start the meeting.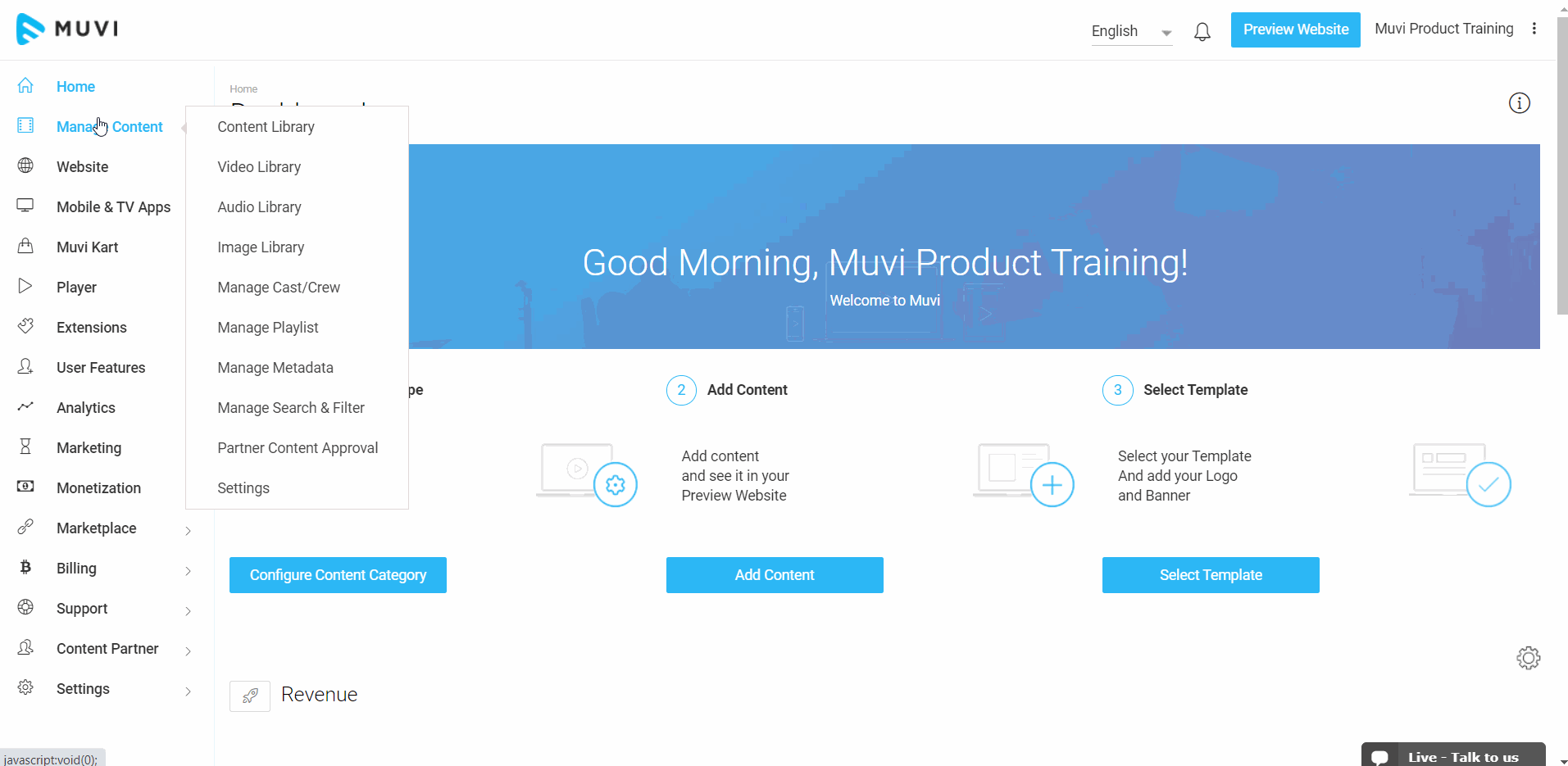 How End-Users Can Join a Meeting
On the content details page, the end-users need to click on the "Join Now" button to join a meeting.
Once they click on the "Join Now" button, they will see the payment popup.
End-users can pay using various payment options like Subscription, Pay Per View, Voucher, Credit, etc. (which is already enabled by the Store Admin)
Once the payment is made, they can click on "Join Now" again to join the meeting.