To add CodaPay Payment Gateway,
Navigate to "Monetization" --> "Payment Gateway" in the CMS.
Click on CodaPayments
Select the country from the drop-down for which you want to integrate the payment gateway.
Type the "Account ID", "Secret Key" (Which you have received after you signed up with CodaPay) in the corresponding fields.
If you want to add it for another country, then click on "Add more accounts for a specific country". Select the country from the drop-down and then type the "Account ID", "Secret Key".
Click on "Integrate Payment Gateway" to add the payment gateway.
Note:
Codapayments can be activated for Myanmar, Thailand, Singapore & Malaysia users.
If you want to add other countries to the list, then you need to add a Support Ticket.
The payment gateway supports, Myanmar KAYAT, Thailand BHAT, Malaysian RINGGIT, and Singapore Dollar. For the end-users from countries except for Myanmar, Thailand, Singapore, and Malaysia USD is the billing currency.
Your end-users can pay using Carrier Billing and Wallet

for CodaPay.

CodaPay is also available for Mobile App users.
At present, it only supports one-time payment methods including PPV, PPV Bundle, and Pre-Order.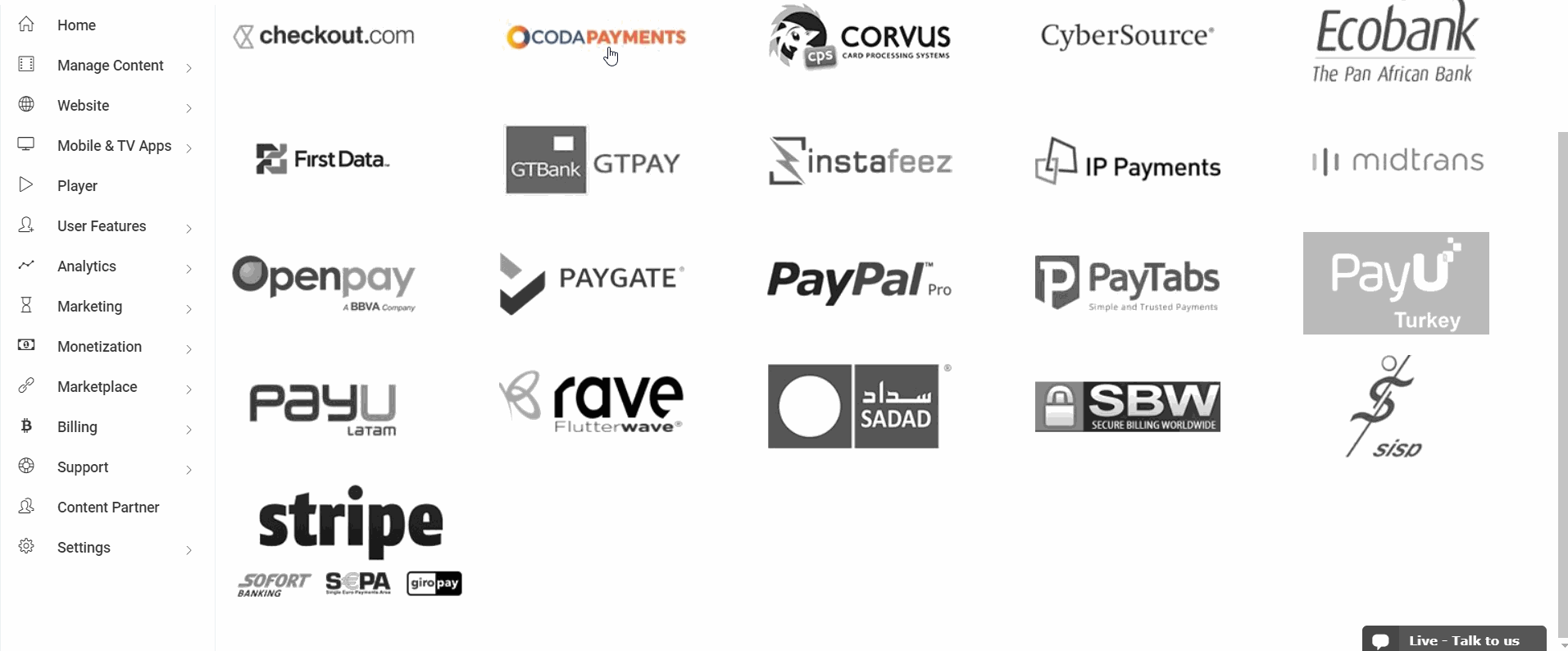 How End-Users Can Select Payment Method
The end-users can select the content or plan they want to purchase on your website/app.

PPV/ Subscription popup appears if the end-user has clicked on a monetized content.

Then needs to click on proceed to payment.

On the payment mode selection page, the payment option appears based on the user's country (see below screenshot). 
Note: By default, the first payment option will be selected, users can change the selection and then proceed to the gateway checkout page by clicking on the "Continue" button.