How End-Users Can Activate Biometric Login
Introduction
The biometric authentication feature allows your mobile app (iOS, Android) users to log in to their device either using their Fingerprint or Face ID. This feature allows the end-users to quickly access their app using their fingerprint and it is considered as the most secure way of login. Users get the option to activate/deactivate their biometric access during the registration process while logging in to the device or after logging in. This feature is only available to the end-users who have owned Fingerprint / Face ID enabled smartphones.
How End-Users Can Activate Biometric Login
For New Users:
If you are a new user, then register to the app once you installed it from the app store.
Provide all the details in the registration page and tap on "Register" from the bottom of the app
Once the registration is completed, the app will pop up to activate the biometric authentication (see the below screenshot)
You can screen your fingerprint to activate the biometric system. Else, you can tap on "Continue Without Activation" to go to the home screen.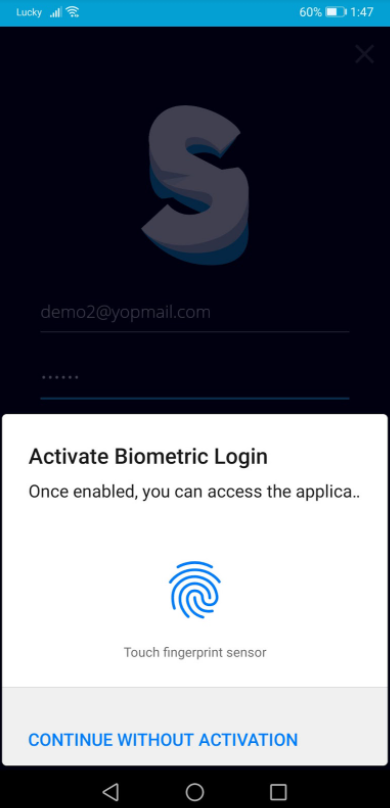 For Existing Users:
If you are an existing user, then navigate to the login screen and enter the login credentials.
The phone will automatically identify the User ID and ask you to activate the Fingerprint/Face ID.
After successfully activating the biometric, logout from the app.
Relaunch the app, and navigate to the login screen, then the app will pop up to login using biometric (see below screenshot).
Scan your fingerprint and login to the app instantly.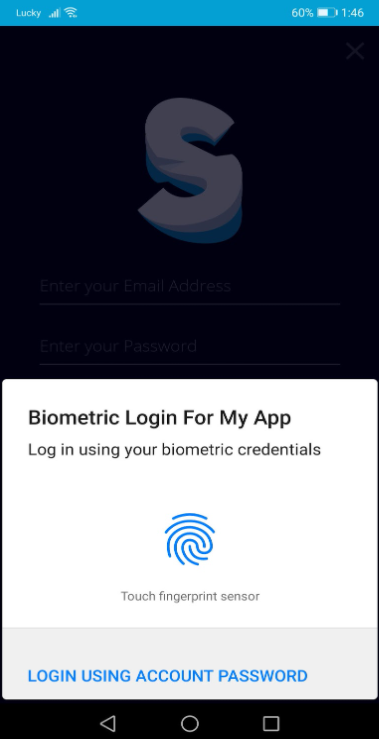 In case, you have never activated Biometric Authentication during the Registration / Login, then navigate to Menu -> Settings -> Biometric -> Turn ON/OFF the Biometric Authentication (see below screenshot).